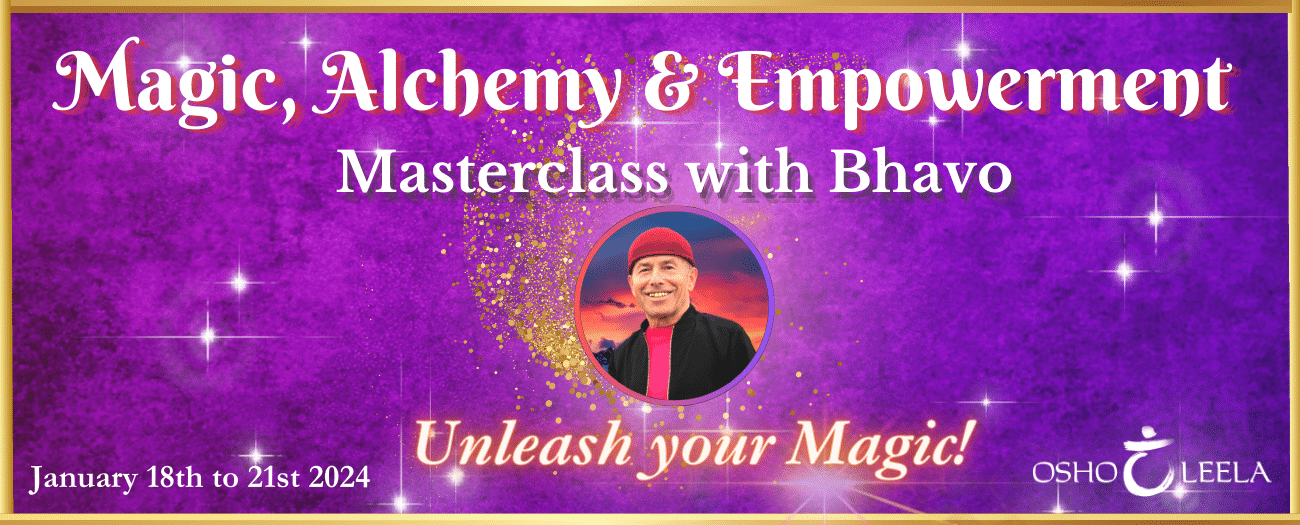 Magic, Alchemy & Empowerment
~ Unlock Your Inner Magic and Self-Worth ~
Masterclass with Bhavo
Thursday January 18th – Sunday January 21st 2024
Would you benefit from doing a group and individual process, where you can be supported to express yourself and trust your inner guidance, going beyond any blocks, to feeling confident with your voice, creativity, or way of expression.
Where you can practise learning new presentation skills to show yourself, in a safe and supported heart centred space in front of others?
Through empowerment work, and individually tailored sessions to guide you into greater alignment, clarity and personal power.
Join this breakthrough masterclass where you will be guided and affirmed in your ability to share your gifts with others – to make the connection to your unique magic and express it with confidence.
Magic, Alchemy & Empowerment
Bhavo will share his highly intuitive heart and expertise in the world of inner transformation and magic in this masterclass, supporting you with his guidance and passion so you 'get it' that you are worthy of owning and expressing your gifts.
Join Bhavo as he shares his deeply intuitive insights and expertise in the realm of inner transformation and magic in this transformative masterclass.
His guidance and passion will empower you to fully recognise your worth and embrace your unique gifts.
Bhavo employs a blend of tarot, astrology, ceremonial practices, and one-on-one work to help you break through the barriers and obstacles that are holding back your true magic from shining through.
Witnessing other participants going through their own process of self affirmation always resonates and touches a part in you.
This workshop will engender the confidence, personal power and love for yourself that you need to step up and step out into your dreams!
This workshop is for:
Budding witches, wizards, channels, psychics, intuitive guides, spiritual coaches … or anyone wanting to develop and expand their capacity to share their gifts and creativity with others.
About Bhavo and his team:
Bhavo is a true Tarot prodigy who cultivated his skills through self-discipline and dedication. He is an Alchemist who utilises Candle Magic in beautiful ceremonial rituals to manifest or release energies that serve or no longer serve. Bhavo's teachings are enriched by his own magical life stories, making his esoteric wisdom truly captivating.
Supported by Kimaya and Bayari who are both intuitive channels and will serve the group and energy field with their creativity and wisdom.
During this Masterclass you will experience:
✔️ Bhavo's unique approach to tarot and astrology.
✔️ Personalised support to overcome blocks and barriers
.
✔️ The profound experience of witnessing others on their journey to self-affirmation.
✔️ This workshop is designed to nurture the confidence, personal power, and self-love you need to step boldly into the realm of your dreams.
✔️ Learn many practices and different simple tools that can be used on a day-to-day basis anywhere.
✔️ Meet like-minded people.
✔️ Experience the magic of Osho Leela; including connection, hugging, nature, sharing and wholesome vegetarian food.
'I enjoyed the connections and the love, the support was immense.

I loved the held space where we could dare to do and say anything without judgement.

Osho leela is like walking into a huge hug. There are incredible healers here and genuine hearts that have guided me further on my spiritual path.

I'll be forever grateful for this weekend.'
'A very magical transformative experience!

The opportunity to push thro my limitations and am feeling so good and excited about the future.

Loved it!'
'Loved being affirmed.

Meeting magical people.

A real privilege to have 3 such incredible facilitators.

Please do more of this – it was absolutely incredible.

Thank you!'
'This Empowerment and Magic weekend was like Osho Leela on acid.'
'I am already a performer and I did his two hour taster workshop at a festival and was stunned by how powerful and moving I (and everyone else) found it. 

After that I couldn't wait to do the whole thing – and I wasn't disappointed. 

His huge experience of personal development work comes through in a loving and intuitive environment where people emerge and transform before your eyes.

For me,  it brought an enduring revival of my love for Magic and insights into how to do it in a deeper and heart-centred way. New ideas for presentations just came to me and have continued to do so.'
'I really appreciate the opportunity to come to Tarot sessions at Leela with Bhavo. There are tarot sessions, and then there are tarot sessions with Bhavo. This is a rare and unique experience. I have never experienced anything like it. Bhavo holds an alchemical, calm and compassionate space. It's very clear that he has a long standing and natural affinity with the cards.

He's a wizard with the cards. It's a deeply enjoyable experience. It often can be pretty intimate. There is laughter, tears and usually a fair few "wow moments". And Bhavo is particularly adept at reading people: he is able to see to the heart of the matter with crystalline vision.

I feel a sense of deep compassion from Bhavo and a deep care for everyone; to be living their truth and their brightest, freest possible life. And that's something that Bhavo is passionate about, in everything that he brings. I feel such a generosity of heart and spirit that he brings this so often to Osho Leela and welcomes everybody.'
'I have done a lot of work and taught a lot of courses, and what Bhavo creates, shares and brings forth at such speed, is UNIQUE – he is deeply present to the space and holds a purity of deep awareness and listening.

I deeply thank Bhavo for what I released, shared and received from his workshop. His presence and clearing is extra-ordinary and very powerful.

For me a life time of emotional clearing done in 2 days.  Wow.   Taking me deeper into what has kept me locked, stuck and trapped. (Clearing demons from the energy space – which continued for the next 2 weeks).

Bhavo's commitment and integrity for allowing the emotional suppression and dis-illusion to arise and clear comes from his powerful gift and wisdom that he graciously shares and gives away.

He is beyond a teacher or trainer – he is truly a master of what he shares. His gift and listening has mastered him and it arises within the space.'
'This workshop is a must if you want to move forward in your life with more confidence, more smiles and more clarity around what you want.

I can honestly say that doing this weekend was monumental for me… what started as a fun, light exploration of what we all wanted to 'look at' in ourselves, grew into a deep and transformational series of activities that broke through barriers and cleaned off the dust that stops us from shining.

I danced, I laughed, I cried, I sang (!) and I shook off a large amount of negativity that was flowing through my inner world that had affected me for so long. Bhavo expertly guided us through the weekend with a gentle yet tough, astute yet open and flexible approach that allowed us to open our hearts and feel safe to touch the places that hurt.

To reach the stage of performing was a real act in loving support and I will be forever grateful for Bhavo's guidance.'
'I attended Being a Star workshop after being recommended by a friend that I would benefit from it. Although unsure, I went along with an open mind. I realised that I have yearned to <i>be seen, while fearing the exact same thing for a long time. Bhavo held the space amazingly all weekend.

In the past I've found I've often come away from groups not receiving what I really needed because of my lack of confidence in not speaking up, but he really saw what needed to be done for all of us to shine, and allowed us our moment.

I am very grateful, and the process is still continuing. I thoroughly recommend this group.'
Details
Arrival time: Thursday January 18th @ 5:00 pm
Workshop starts: 8:00 pm (We encourage you to arrive early so you have time to settle in and join for the meditation and dinner)
End: Sunday January 21st @ 6:00 pm (dinner is not included for this evening)
Price workshop: £350 (includes workshop & food)
Early Bird till January 14th £330
Accommodation supplements for 3 nights:
Own campervan: £0 (£9 hook up if needed)
Dorm £30
Dorm Bed Deluxe £60
Regular room £105
Large room £120
Premium room £135
Pod single bed £90
Pod double bed £105
Accommodation is allocated on a first come first served basis. For 2 people bookings, please call the office.
For more info about our accommodation & facilities check here.