The Intimacy Gathering
A tantric journey into sensuality, joy and connection
Tuesday August 15th till Sunday August 20th
Come and join us for 5 days of exploring playful & sensual ways of connecting deeply with yourself & others.
This gathering is a heartful space to experience sincere connections, and explore intimacy, self-love and meditation.
It is a place to embrace life with passion and authenticity, giving yourself the gift of living in presence and expansion.
Let's connect, let's dance, let's play!
The Intimacy Gathering
In this journey of togetherness, we integrate dance, meditation, breathwork, the power of nature, rituals, and conscious touch.
You will meet like-minded people in a beautiful and loving environment where you can expand your energy and honour your boundaries.
We have created a rich program held by a group of well-experienced teachers and facilitators for you to connect with the juicy aliveness in your body and the tender strength of your heart.
❤️ Elaine Yonge from the UK
❤️ Pete & Kalindi from the UK
❤️ Jem Ayres from the UK
❤️ Gopal from Italy
❤️ Daniella Shakti from Chile
❤️ DJ Jean Micheal from the UK
❤️ Kranti from Ireland
❤️ Shakti Sundari from the UK
❤️ Catherine Hale from the UK
❤️ Julia and Andy Samel from the UK
❤️ Sara Bhavani from the UK
"Love means the art of being with others. Meditation means the art of being with yourself. They are two aspects of the same coin. A person who does not know how to be with himself cannot truly relate with others. And vice versa: the person who is not capable of being with others, of relating, will find it very difficult to relate with himself, because the art of relating is the same.
These arts have to be learned together, simultaneously; they are inseparable." Osho
SPECIAL SPRING OFFER WILL BE ANNOUNCED ON MARCH 21st…
Amura
Amura has been living at Osho Leela since 2006 and is an experienced organiser and facilitator of the Conscious Sexuality and Tantra Festivals here at Osho Leela.
Amura is passionate about supporting people to feel truly at home in themselves and to be fully present in their connection to others. She uses her presence, skills and experience to guide others in their own journey of embodiment, sensuality and intimacy. Amura's background is in physiotherapy, massage and bodywork, and she is fascinated by the beauty and mystery of our bodies.
Ranjana
Ranjana was born close to the Andes Mountain Range in Chile, and inspired by the magnificent nature all around her, set out to create a bridge between ancestral wisdom and modern tantra and meditation.
Ranjana has offered workshops in The Americas, Spain, France, Greece, India and the UK for the past 20 years. Her offerings include Tantra Shamanic Essence, Female Tantric Path (Tribal Woman), and the Living Tantra and Meditation Method.
Andrew
Andrew is a graduate from assisting Jan Day on her Living Tantra Training and has studied with many other Tantra Teachers, including John Hawkins, Sy and Ash, Elaine Young. He co-led Tantra Festivals at Osho Leela called "Melting into Love". He's currently developing a Shamanic Healing Modality and writing guidance book on Conscious Relationships.
Andrew has explored many fields ~ Reiki, Thai Chi, Chi Chung, Yoga and Mystical abilities. He regularly attends Vipassana and has been meditating for over 20 years.
Kalindi & Pete
Life brought Pete and Kalindi together in India 14 years ago, and they now support couples and individuals in opening to the depths of intimacy and love, drawing on a rich bag of transformative tools.
Kalindi is an inspirational group facilitator and therapist, working in the field of intimacy coaching, sexual healing, conscious relationships and transforming sexuality into spirituality.
Pete has been practicing and teaching in the fields of meditation, breath work, energy work, sacred touch and sacred sexuality since 1992. He is the founder of Naturally Ecstatic, Bulletproof Breathwork and Synergy Tantric Bodywork.
Jem Ayres
Jem is a certified Sex Geek: A trauma-informed Sexological Bodyworker, Tantra practitioner and founder of Orgasmic Embodiment Sex Coaching. With over 10 years' experience in the field
of self-development through the body Jem teaches what she calls 'Sexual Self-Development'.
Multi-talented and creative she is passionate about helping people to connect with themselves
through the body, fine-tuning into the subtleties of our life force, using sexual energy to fuel all areas
of life.
For more info click picture above.
Elaine Yonge
Elaine is a Group Facilitator, Educator, Coach, Guide, and Energy/Bodyworker in the fields of Consciousness, Breathwork, Sacred Sexuality, Somatic Sexology and Shamanism. She has supported humans in these realms for over 10 years. With individuals, groups, in person, online and at festivals around the globe.
She has been part of the International School of Temple Arts Tribe since 2012, as a Lead Faculty member from 2015 to 2022. Leading many level 1 SSSEx and the level 2 SSSIn journeys around the globe.
For more info click picture above.
Gopal
Italian born Gopal has more than 25 years of experience, research and certified training in areas such as Bioenergetics, Shiatsu, Mysticism and Conscious Sensuality.
He has been teaching workshops and offering individual sessions all over Europe for over 10 years. Gopal is a certified SkyDancing Tantra teacher, a certified bodyworker and a facilitator at OSHO Divine Healing Arts.
After moving to Berlin, he was inspired by the city to create Dynamic Tantra: a playful, soulful way to practice Tantra in the urban jungle. He is also a musician, event organizer, promoter, art director and DJ.
More about Gopal
Shakti Sundari
Shakti Sundari is a Priestess of Love & Sacred Sexuality, 
who has followed her bliss in teaching embodied awareness and awakening for the past 19 years. Trained as a yogi, tantrika, conscious dance facilitator and healer, Shakti is a passionate advocate of women's empowerment, a masterful curator of full-bodied spirituality and an eternal student on the path of authentic living, with a gift for seeing deeply, channelling wisdom and holding compassionate, yet powerfully transformative space. Shakti has created and delivered an ever-evolving series of tantric and personal development courses, writes an inspiring blog, interviews leading lightworkers and published her first book – RAPTURE: A Guide to Sexual & Spiritual Awakening for Women – in 2021.
More about Shakti Sundari here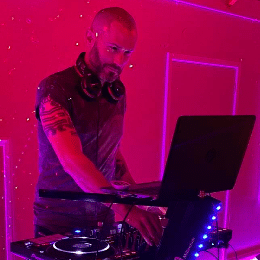 Jan-Michael
DJ Jan-Michael is a London-based Ecstatic Dance DJ and music producer. His 'rapture' Ecstatic Dance DJ sets lean towards high energy, bass heavy tracks across many genres. 
RAPTURE is a conscious dance club fusion – gathering the energy usually spared for the peak of the ecstatic dance wave and give it to you in bucket loads! The phat tunes that have you punching the air, jumping, whooping and whirling …. as well as enough of those that bring you back down to earth afterwards and soothe your soul. More info check here.
Details
The Intimacy Gathering is an alcohol and drug free event!
Start: August 15th @ 5pm
End: August 20th @ 3pm
Price Festival Tickets (includes food & camping with own tent):
£450 (Early Bird till 1st August £430)
Spring special 21st March till 30th May 31st: £ 385
Accommodation:
Own campervan £50 (plus £15 hook up if needed)
Dorm £100
Dorm bunk bed deluxe £150
Regular room £175
Large room £225
Premium room £275
Single pod: £225
Double pod: £275
Accommodation is allocated on a first come first served basis. For 2-person bookings, please call the office.
Until the tickets appear below, please don't contact the Booking Office to book, as the event is not yet on the system.