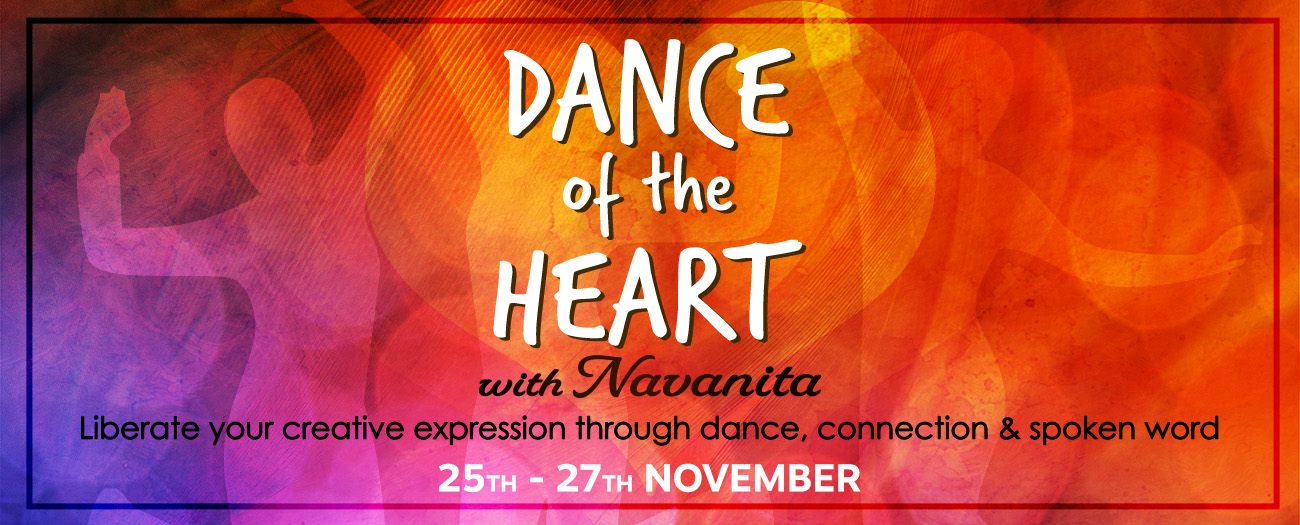 Dance of the Heart
With Navanita
November 25th till November 27th
Alchemise your life issues & experiences into radiant self-love and vibrant confidence as you discover your own Dance of the Heart.
Come and discover more of yourself, gain confidence and trust in your ability to 'Dance from your Heart' in your life, work, and relationships.
Play to your strengths, and celebrate your gifts!
You will be guided to find YOUR hearts dance, through an intimate and playful journey in 'Dance Of The Heart', it will include Dance, Movement, Writing, Spoken Word, and the opportunity to explore deepening relationships to self and others through Authentic Connection & Communication.
Navanita is a vibrant, multi-skilled, therapist with integrity.
She leads from the heart and works passionately to support and empower people to move forward in their lives.
She draws from her training, together with her own rich life experience, unique perspectives, and intuitive presence to support people in their process.
As well as being a therapist she has presented, directed, and choreographed radio, tv, and dance theatre.
Navanita is a qualified Counsellor, Mediator, and Dance, Intimacy, and Movement Coach.
Her humanistic approach offers an array of 'therapeutic tools' in her sessions.
She works creatively with groups and individuals alike. Navanita is praised for her playfulness, kindness, active listening skills, care, humour, and natural empathy.
Details
Start: Friday 25 November at 5pm
End: Sunday 27 November at 7pm (this workshop includes dinner on Sunday).
Registration Ticket (includes workshop and food plus dinner on Sunday): £280
Early Bird Ticket until 11 November 2022: £260
Accommodation:
Dorm £20
Regular room £50
Large room £70
Premium room £90
Single bed pod £70
Double bed pod £90
Accommodation is allocated on a first come first served basis. For 2 people bookings, please call the office.
I thoroughly appreciated Navanita's sensitive and direct approach to calmer communication. A definite win-win!
Navanita's workshop gave me both a method, and the confidence to write from the Heart! Brilliant!
Thanks to Navanita, I am now on my new journey through life – eyes open and with a strong heart.