I talk to Sanjula, one of the therapists and workshop leaders at Osho Leela, about healing from difficult life experiences, embodiment and empowerment.
What is true empowerment?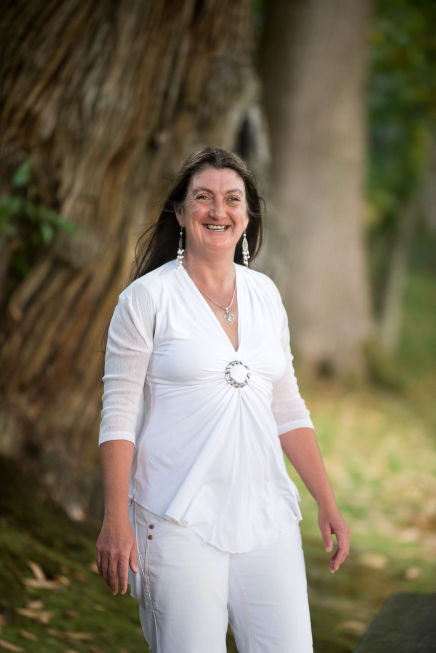 "We all want to feel free and uninhibited. We long to be able to respond to life in the moment with love and joy rather than fear and defensiveness. But when a person experiences trauma – and most of us have experienced some form of it – a part of the development of the body/mind shuts down. In therapy, we call this freezing. Another way of looking at it is that at some point in your life, even back when you were in the womb, there was a violation of trust or a moment of not feeling safe. When this happened, your body contracted. If the body contracts repeatedly, a habit forms, creating a block in the body.
If you look at the body as an energy system, the energy isn't flowing as freely as you like. You feel stiff and stuck. The process of healing and empowerment is about thawing out from our frozen places, reopening ourselves so that we feel more embodied."
Stay in the body and feel
Photo by Jairo Alzate on Unsplash
"As a body-based therapist, it's my opinion that the more present you can be in your body, the more you can be present with what you need. If you avoid any feeling in your body, you're not really going to know what you need. You'll end up feeling lost, like something is missing. For me , empowerment means to do whatever it takes to stay in my body and feel – to not use anything like an addict would to get out of the body.
Even 'spiritual' people use plant medicine, sex, meditation, or yoga to get out of the body. What you need to feel is your own pain. There is no bypass, no short cut fix to get past the pain; you have to feel it without getting lost in it. Simply feel the feelings and then let them go.
Simple, but not easy. Here at Osho Leela, that's one of the main things that we teach – how to let go of the control we have developed over our feelings and to let them go."
What is the link between abuse and empowerment?
Photo by Mathew Schwartz on Unsplash
"When there's been abuse, there's a wound there that needs to be empowered. The cycle of abuse is the calling to be empowered.
Abuse is on a spectrum, with physical and sexual abuse on the high end of the scale and lack of care on the lower end of the scale. Often, people have numbed their abuse out and they have a block about knowing what has actually happened to them. Whether it's dark chocolate or putting a needle in your arm, the avoidance will prevent you from truly healing.
When your bodily or emotional boundaries have been crossed, it's very hard to know what your body needs and what you need emotionally. All of us, whatever has happened to us, have to learn what it is to love; not to love blindly, but to love with boundaries. This means being able to communicate and ask for what you need. It's being aware of what you are learning in the situation and using your freedom of expression.
The medicine I really want to bring is that the moment you can take responsibility for whatever is happening to you, rather than blaming the outside, you have broken out of the victim mentality that keeps you in the cycle of abuse. The ability to take responsibility and let go of blame needs to be learned in a safe environment where you also learn to express yourself."
My story: from rock bottom to upliftment
"I reached a place where, because I had been abused, I became the abuser myself: I was abusing myself with drugs and alcohol. My rock bottom was reaching a place of suicide. It was then that I realised I needed to change. There was no other choice for me but to grow, move, and find every possible source of healing so that I could uplift myself. I didn't have the support of family and friends – it was a case of either rising up or remaining on the streets of South Africa.
I chose life, and now I have no choice but to continue healing. That journey continues – I am not resolved, but I am very aware of my story and of what triggers my trauma. This allows me to move in a way that supports me to empower myself."
Shifting out of the victim
Photo by Nathan McBride on Unsplash
"If you have experienced abuse but you are able to see the mirror in the abuser, you will step out of being a prisoner. This involves seeing where you are not giving yourself something or not moving towards the things you know you should be; seeing where you are not asking for what you need. Any of these things will hold you back.
Another big setback that we all have, and one of the main areas I work with, is belief systems. Most of our belief systems are formed from very young. So if there's been a history of abuse, there'll be a lot of low self-worth belief systems that need to be broken. You will need lots of positivity to reinforce healthy habits. You can choose to do that alone, but it takes great leaders to do that kind of work on your own – people like Tony Robbins and Mandela. We, as people, need each other to make these positive changes. We need community settings that support the transformation. It's easier to break the negative beliefs about ourselves when we have a loving group of people around us, encouraging us to love ourselves and to choose what's good for ourselves."
Breaking the pattern
Photo by Allie Smith on Unsplash
"There are not many places on the planet anymore where you can feel safe and where you are going to be empowered, loved and held. It takes a lot of courage to break the pattern of victim and perpetrator. This is where group therapy and individual therapy are so important for people who have been abused: because one of the basic elements for recovery is that you need to feel safe.
My groups are geared towards people who want to come and heal, even those with a high level of trauma. My workshops offer a chance to have a first, gentle taste of what's here at Osho Leela, as well as a way to go deeper. I focus on self-love, healing the cycle of abuse, and empowerment."
By Sanjula with Khalsa
About Sanjula 
Sanjula lived in community from the young age of 21, including Findhorn, Humaniversity in Holland, and Osho Leela. She completed the 6-year Humaniversity Therapist training as well as their advanced Therapist Training and has also studied many healing modules and bodywork. Sanjula's upcoming workshops at Osho Leela include the Rejuvenation Weekend on 6th-8th March, being on the team in the Total Life Change Intensive in April, and co-leading on the Leela Life Training which starts in September. She also works as an online Life Coach.
Interview and write-up by Khalsa (Morgan) Nichols. Khalsa is a writer, singer and group facilitator living and working at Osho Leela. www.morganknichols.com.